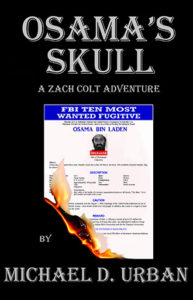 Osama bin Laden didn't die in Abbottabad. He   wasn't buried at sea. Kidnapped, hidden at a   CIA black site in Poland, he perished in   custody. Then certain powerful individuals   wanted a souvenir—his skull. But the CIA has   other plans. It recruits Navy SEAL Ingvar   Rogers to steal the skull and act as live bait to   destroy ISIS and al-Qaeda cells embedded in   the U.S. When things go south, Rogers turns   to  Zach Colt for money, guns, and backup.   Together, they must outrun and outwit rogue   CIA agents, murderous terrorists, including a   daughter of ISIS, as well as the most powerful   and secret group of all . . .
REVIEWS
[Urban's] writing is the tight, concise, no-nonsense styling of thriller fiction that you would expect, favoring plot over character, so fans of the tradition are certain to be enthralled from page one. I found the true gem in Osama's Skull to be the slightly reimagined speculative aspect, and the political reflection that Urban's work gives to modern-day attitudes on terror…. The world we live in today is truly dangerous, and it's that core message which resonates powerfully through Urban's twisting, exciting plot, making Osama's Skull a thought-provoking and enjoyable read. — K.C. Finn, Readers' Favorite (5-Star Review)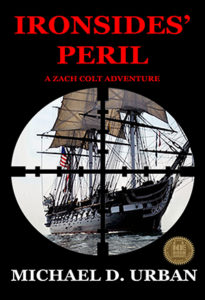 Ironsides' Peril is the only modern-day thriller about the USS Constitution..Boston is under attack.  A trail of burning ships and downed jet aircraft litters the harbor.  A ruthless band of Iranian-backed terrorists has hijacked USS Constitution.  A former president of the United States, the current vice president, and the secretary of the Navy are onboard together with the ship's crew and other hostages.
Unfortunately for the terrorists, so is Zach Colt.  And he's spoiling for a fight.
Now it's time to take "Old Ironsides" back.  Before she is destroyed and the terrorists' final, devastating revenge is enacted on the City of Boston.
REVIEWS
"A first-rate thriller."  William Martin, best-selling author of The Lincoln Letter, The Lost Constitution, and other books
"This is a fun read; it could easily be the premise for a feature film.  The author clearly knows the style and pace of modern international thrillers coupled with a milieu he knows and has researched well….  [I]t's an adventure tale for nearly all ages."  —  Judge, Writer's Digest 21st Annual Self-Published Book Awards
"When Old Ironsides turns 215…Boston is poised to celebrate…until a series of terrorist attacks strike the day of the big event.  There are not many authors who will take you inside the mind of a terrorist, but Urban takes us into the minds of three.  Not only that, he provides captivating details about the history of Old Ironsides, the military and his main characters….  I really enjoyed this book and will definitely be interested in finding any more by this author."  —  Readers' Favorite (5-Star Review)
"A terrorist with roots to the original Barbary pirates and his ruthless band have hijacked the USS Constitution….  As thrillers go, this one benefits from an unusual setting … as well as a likable hero in Zach Colt, a combination of Bruce Willis and Batman, ….  I suspect Urban has the making of a … series that can be successful ….  A good read."  —  6/13 Jack Quick, Stacey Alesi's Bookbitch.com
AWARDS
Winner – Suspense/Thriller – Next Generation Indie Book Awards
Finalist – Fiction – Thriller – Terrorist – Readers' Favorite Book Awards
5-Star Review, Readers Favorite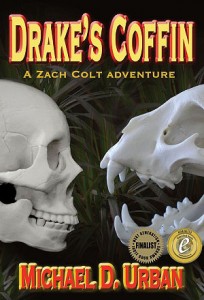 In 1573 the English adventurer Sir Francis Drake stole a vast treasure from the Spanish and buried it in the jungles of Panama. Hundreds of years later an unsuspecting group of teenage boys stumbled upon it in a night of violent death that would change their lives forever.  As adults, they come back for Drake's treasure, in a race against time, old enemies and modern foes. A psychopathic cop. Ruthless pirates, old and new. A daring ex-Navy beauty. Deadly predators. Darien Indians. Intrepid SCUBA divers. A feisty Portuguese Water Dog. A contest to the death in the Panama Canal. These and more are encountered by the men in pursuit of their fortune. Some find self-knowledge, honor and redemption.
Others face betrayal, heartbreak and death.
REVIEWS
"Urban's debut novel [is] … fast-paced … real and intense … A coming-of-age story and thrilling adventure rolled into one."  — Kirkus Reviews
"Drake's Coffin is a highly well-written … adventure story that is packed with violence and high-paced action…. [t]his is one thrilling, readable story….  The plot proceeds with twists and turns….  The characters  … are well-drawn and totally believable ….  Drake's Coffin is a must read, to say the least!" — Readers Favorite
Twenty 5-Star Reviews on Amazon.
AWARDS
Finalist – Action/Adventure 2012 Next Generation Indie Book Awards
 Finalist – Best eBook Cover 2012 Global eBook Awards
Nominated – Best Thriller 2012 Global eBook Awards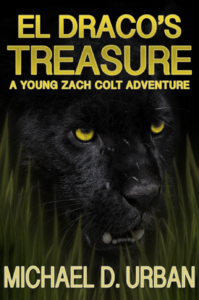 El Draco's Treasure is the young adult version of Part I of Drake's Coffin. It is a rousing adventure tale of the search for lost treasure in the jungle of Panama by a diverse groupo of teenage scouts. It features rich history, exotic locales, fascinating characters, and rapid-fire action that will keep readers engrossed for hours on end.
To purchase any of these books, please visit our store.